How To Learn Beekeeping (Beekeeping Education For Beginners)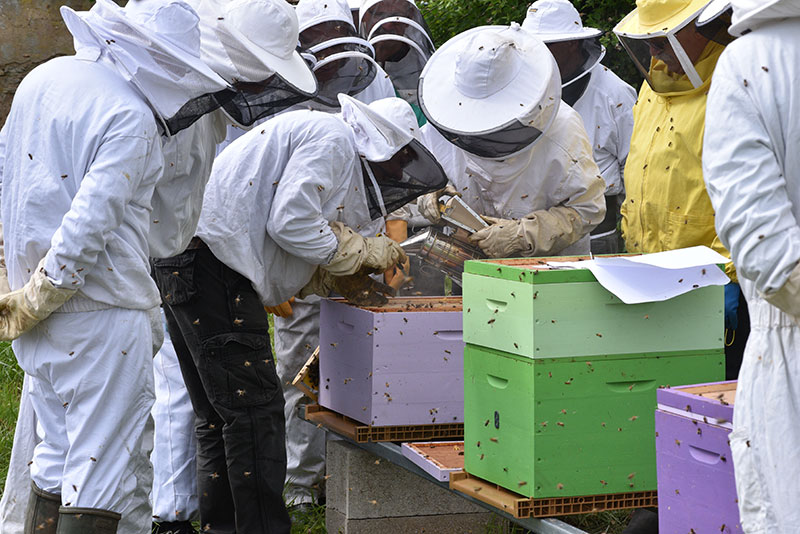 An in-depth beekeeping education can take years to complete requiring study and hands-on experience. However, you can begin beekeeping by learning some basic facts and techniques.
Begin your beekeeping education with various sources: beekeeping books, courses (in-person or online), beekeeping associations, beekeeping blogs and forums, and YouTube videos. Books and courses are the best places to start as they present information in an organized, orderly fashion.
In this article, we will provide details about the best sources for how to learn beekeeping. Keep in mind that a lot of beekeeping advice is a mixture of facts and opinions, so it is wise to use multiple sources.
Affiliate Disclosure: BeekeepingForNewbies.com is a participant in the Amazon Services LLC Associates Program. As an Amazon Associate, we earn from qualifying purchases. This site also participates in other affiliate programs and is compensated for referring traffic and business to these companies.
Check out our gift ideas for a beekeeper you know…or for yourself. In addition to standard beekeeping supplies, we've highlighted some unique beekeeping-related items.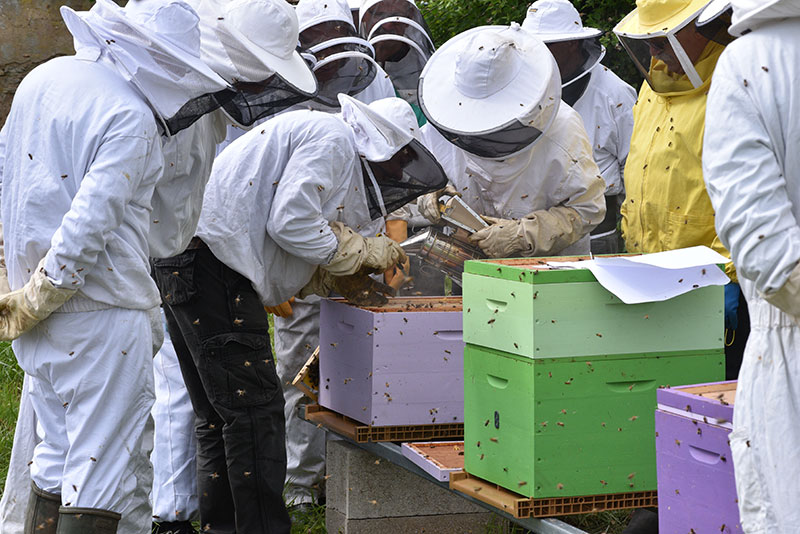 Beekeeping Books
These are the three best beekeeping books for beginners and will help you get through your first couple of years of beekeeping.
Each of these books discusses various types of beehives. However, they tend to focus primarily on the most popular Langstroth hive.
The Beekeeper's Handbook by Diana Sammataro and Alphonse Avitabile
Beginning with "fun facts," The Beekeeper's Handbook is full of valuable information to both beginning and experienced beekeepers, supported by over 100 detailed illustrations and a glossary of terms.
A fun fact example: It takes 12 honey bees to make one teaspoon of honey.
The Beekeeper's Handbook covers how to start beekeeping and includes more advanced topics such as queen rearing and particular management problems. This book can serve as a primary reference source for years.The authors are credentialed, experienced beekeepers.
Diana Sammataro is retired from the USDA Honey Bee Lab. She has a Ph.D. in Entomology and Apiculture from The Ohio State University. Alphonse Avitabile is an experienced beekeeper, retired honey bee scientist, and college instructor.
The Backyard Beekeeper – An Absolute Beginner's Guide to Keeping Bees in Your Yard and Garden by Kim Flottum
The Backyard Beekeeper (now in its 4th Edition) is another excellent book for beekeeping newbies.
Beautiful color photographs help guide you through "starting right" with the proper equipment and location all the way to harvesting honey and making products from beeswax.
The Backyard Beekeeper is geared toward the small hobby beekeeper with limited space nearby (hence, the backyard). The author includes details on how to protect your neighbors and urban beekeeping.
We found the typeface in this book a bit small, so we suggest a Kindle or other eBook version.
The author, Kim Flottum, manages Bee Culture Magazine, where he has written and edited articles for 20 years. He has a horticulture degree from UW Madison and worked in the USDA Honey Bee Research Lab.
Beekeeping for dummies by Howard Blackiston
We find Beekeeping for dummies is often the most recommended book for beginners in online forums.
The book uses icons to highlight tips, warnings, things to remember, urban beekeeping points, and "all-natural" suggestions. Beekeeping for dummies even includes some recipes to make with your harvested honey.
Like other books, Beekeeping for dummies has a glossary and lists of helpful resources. Of note for the newbie is Appendix B, Beekeeper's Checklist. Beginners often overlook record keeping, and this checklist is an excellent way to start.
Howland Blackiston, the author, is a past president of the Connecticut Back Yard Beekeepers Association. He has been a beekeeper for over 30 years, has authored many articles, and appeared on TV and radio shows.
While these are the best books for beginning beekeeping, we suggest you check our complete list of the best beekeeping books for additional recommendations.
Beekeeping Classes
Beekeeping 101 courses are available in-person and online for beginners.
In-person Beekeeping Classes
Beekeeping associations or local beekeepers in your area may provide in-person classes at a very reasonable cost. These courses are often one or two-day events.
In-person education usually has several advantages:
You can see bees and equipment up close and personal.
You have question and answer opportunities with a beekeeper knowledgeable in issues for your area.
It presents a chance to meet other beekeepers, new and experienced.
The instructors or other students can become a local source of future advice and assistance.
Live classes will be limited in availability and may have strict caps on the number of participants. Check availability in your area and register early to avoid being shut out if you find something that fits your schedule.
Note: In-person classes were discontinued across the country in response to the Covid pandemic in 2020. As the situation improves, expect to see a return of these courses.
Online Beekeeping Courses
Various entities ranging from major educational institutions to individual, experienced instructors offer online courses.
There are advantages to online beekeeping classes (remote learning in current jargon):
You can learn at your own pace.
Online classes can be viewed during the winter when beekeeping activity is limited.
Classes can be repeated to reinforce your understanding.
Online classes are often longer and more in-depth than in-person courses helping to offset the fact that they tend to be more expensive.
PennState Extension offers an online video course for beginning beekeepers. As of this writing, you get one year of access to the 9-hour course for $159. The course includes handouts and interactive questions. PennState Extension also sells guides and publications about beekeeping.
Rutgers Office of Continuing Professional Education (New Jersey Agricultural Experiment Station) offers Bee-ginner's Beekeeping: The Basics of Apiculture for a registration fee of $300 as of this writing (with some discounted prices available).
The Rutgers course content takes about 14 – 15 hours to complete. However, unlike the PennState class, which is open for 365 days from the date of registration, Bee-ginner's Beekeeping is only available for a 2-week period in November which is a significant drawback.
The Online Beekeeping Academy is an offering from David Burns, a Certified Master Beekeeper at Long Lane Honey Bee Farms.  The Academy offers courses on particular topics such as mite control and queen rearing. Classes are available as a bundle for a discounted price. As of this writing, the basic beekeeping course lists for $59.
David has been doing beekeeping videos on YouTube for many years. His YT channel allows you to check him out for free before signing up for his courses.
Learn Beekeeping At Beekeeping Associations
Beekeeping associations are a great place to meet other beekeepers in your area. An excellent place to start looking is the American Bee Journal's list of State Associations. Click on your state to get an expanded list.
A lot of beekeeping decisions depend on your local environment. Experienced beekeepers in your area can be a great source of advice on these issues.
Regulations regarding beekeeping vary by jurisdiction. Local associations can provide helpful guides to understanding the requirements. For example, the Empire State Honey Producers Association in New York provides information about apiary, bear, and food laws that beekeepers need to know.
As mentioned above, many clubs offer free or low-cost classes to help you start beekeeping. These in-person courses are a great way to get started.
Beekeeping associations may also provide shared resources such as centrifugal extractors that may be too expensive for an individual backyard beekeeper.
Beekeeping Blogs And Online Forums
Ours is not the only blog providing beekeeping tips and information. A couple of our favorites are:
ScientificBeekeeping.com is run by Randy Oliver, a biologist and regular contributor to American Bee Journal. Scientific Beekeeping strives to "scour scientific papers for practical beekeeping applications, and to sort through the advice, opinion, and conjecture found in the bee magazines and on the Web, taking no positions other than to provide accurate information" to beekeepers.
HoneyBeeSuite.com is a popular site from Rusty Berlew, a master beekeeper in Washington state. Her "purpose is to discuss contemporary issues in beekeeping and bee science. It is non-discriminatory, encompassing both honey bees and wild bees."
You can give and get advice on various online beekeeping forums.
Helpful beekeepers frequent Beesource Beekeeping Forums. You might even get some questions answered by a well-known author.
Facebook is another place to get answers to questions. Find groups for general information and others for local specifics. We follow Beekeeping Techniques, Beekeeping Basics, and Northeast Beekeeping, among other groups.
Keep in mind that these forums include beekeepers with a wide range of experience and from different geographic areas.
Beekeeping Channels On YouTube
It should come as no surprise that there a lot of beekeepers providing informational videos on YouTube.
Besides our YouTube videos and the David Burns videos I mentioned, here are some other channels we like:
These video channels are not organized like a course you can follow. However, you can search them for advice on specific issues or follow along to become more familiar with beekeeping in general.
Conclusion
It is essential to familiarize yourself with basic beekeeping issues and techniques to start beekeeping successfully.
Beekeeping books and classes provide the most organized format of information. Still, there are a lot of other valuable resources at your disposal.
This article is part of a series on how to start beekeeping, a set of steps to guide you through your first year of beekeeping.
As you learn the basics of beekeeping, we suggest you begin planning for your first beehive by understanding how much it will cost you to start beekeeping.